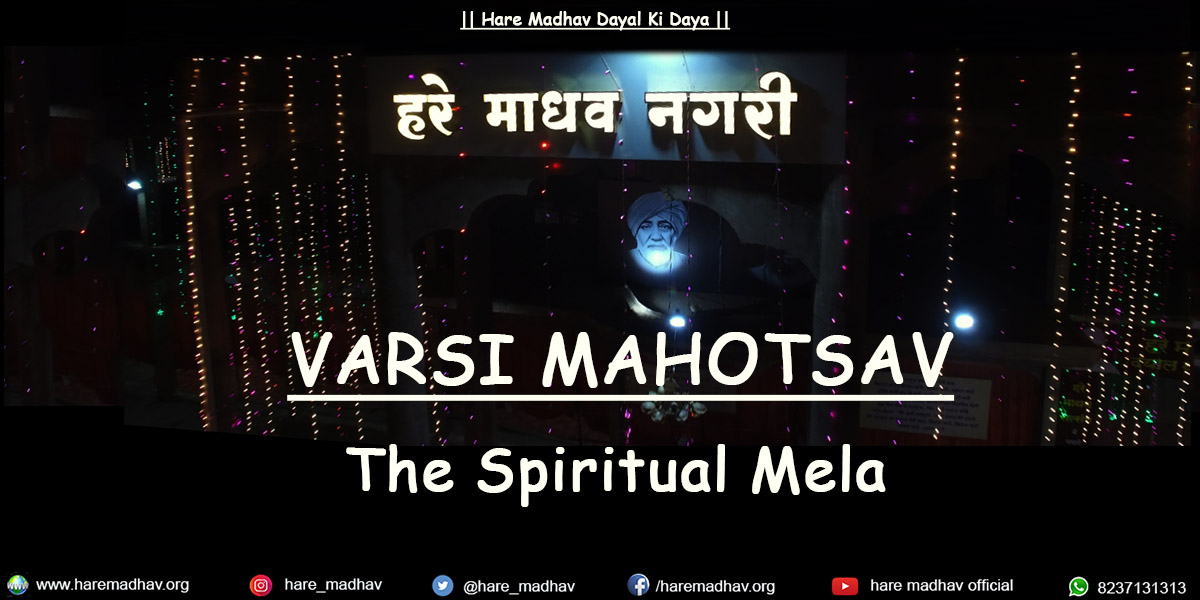 True Masters are free from all kind of bondages; they preach us to render selfless service and guide them on the path of spirituality to unite with Supreme One Hare Madhav Lord. Pooran Satguru bestows upon His disciples with the treasure of Sewa (Service), Satsang(Holy discourses), Simran(Remembrance) and Dhyaan(Meditation). Attaining this a soul is free from all the pains.
Varsi Mahotsav is a fest to experience inner joy and peace. Every year, in the presence of H.H Satguru Baba Ishwar Shah Sahib Ji, a two-day spiritual fest is celebrated in the memory of Complete True Masters, Satguru Baba Madhav Shah Sahib Ji and Satguru Baba Narayan Shah Sahib Ji on 9th &  10th October.
In this Spiritual Mela devotees from across the globe visit Madhav Nagar, Katni to witness this mesmerizing experience. The present True Master discloses the ultimate truth & real purpose of this human life through their divine hymns and holy discourses to facilitate spiritual journey of a soul to reach its ultimate destination the HARE MADHAV LOK.
The preparation starts months in advance for this soulful fest. Fortunate souls who render selfless service in pious feet of His Holiness unite with Supreme One. It is a festival to celebrate the truth of life and to know the meaning of this Human birth. One can learn and take the message in various form, all you need to do is be there with utmost love and faith. The spiritual message through the divine skit performed by Hare Madhav Ruhaani Bal Sanskar children and performances by them is heart touching. The two-day festival is no less than experiencing heaven on earth. Every year on 9th & 10th October, Madhav Nagar, Katni has a spirit of happiness celebrating the Satguru and his blessings in abundance. Attend the divine festival and cleanse your soul and mind.