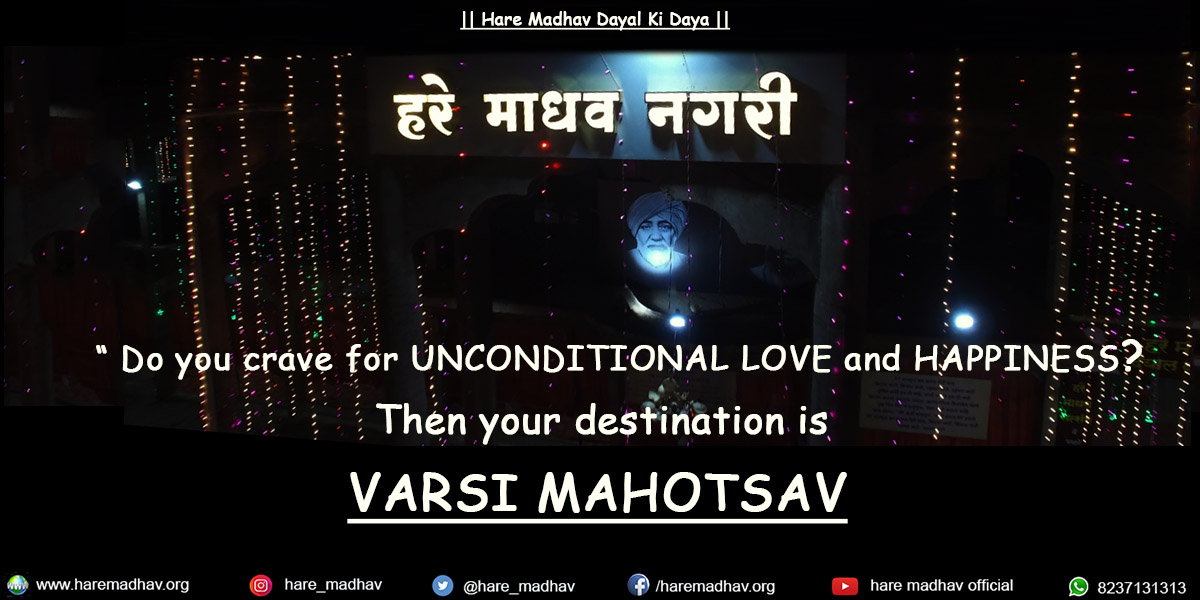 Varsi Mahotsav is a grand soulful fest organized in Katni, Madhya Pradesh each year on 9th and 10th of October. Disciples from across the globe await this auspicious Spiritual Mela and come to seek the divine blessings of His Holiness Satguru Baba Ishwar Shah Sahib ji.
The question is what do they get here? Beloved readers, it is a life changing experience. Here a SOUL gets a chance to know his real self through holy hymns and discourses of True Masters, who is Supreme and one with the God, who awakens us and takes us along to our real abode, the Hare Madhav Lok.
Disciples who have attended this Varsi Mahotsav in the past also feel that their soul gets energized. Their worries and tensions come to an end and they experience happiness beyond words. They also say that they get unconditional love from Satguru Babaji that is the craving of each human being these days, as they have everything but love. They feel motivated and hopeful after attending the Spiritual Mela. The Satsang(Holy discourses and hymns) reminds them of real purpose of this human life, that raises the soul above this worldly trap and it becomes one with our creator and ends the age old thirst of our soul.
Varsi Mahotsav also serves as an opportunity to cleanse the burden of Karmas by offering chance to render selfless service in the True Master's congregation with humbleness and gratitude, which is also known as Sewa. Sewa imbibes sense of groundedness and positivity towards the life. They also say that they get answers to so many questions of life that deeply shapes their mind, body and soul. So what are you waiting for? We all deserve some peaceful time with ourselves, which is why this soulful vacation is must. Words cannot describe what you get here and so one needs to attend and self experience the bliss. If you ever think like you need a break from this fast paced world to relax and know yourself, then Varsi Mahotsav, The Spiritual Mela is your destination.